Send money online to
Mozambique

from the USA

Bringing you closer to home with easy online money transfers.
Our featured partners
Transfer money to Mozambique anytime and conveniently with a few clicks

At BOSS Revolution our goal is to provide our customers with the easiest and most reliable ways to support their loved ones around the world. Send money to your friends and family from the BOSS Revolution website or BOSS Money App conveniently with a few clicks. You'll know the exchange rate, fee and payer information right away.
More reasons to send money to Mozambique with BOSS Revolution
Safety and security
We value the trust you put in us. Our industry-leading data security keeps transactions and personal information safe, so you can always feel protected when sending money with BOSS Revolution.
Money-back guarantee
We take on the responsibility of delivering your funds, and if you're not satisfied with our service we'll refund your transaction in full.
Low fees and great exchange rates
Your first transaction with the BOSS Revolution website and BOSS Money app is FREE. Fees on future transfers start at just $3.99 when you pay with a debit card.
Years of trust and dedicated service to our customers
BOSS Revolution has been providing services to keep families connected for over 20 years. More than 1.5 million customers already enjoy our fast and reliable money transfer service.

Send money to Mozambique instantly with the BOSS Money App
Send
Money and top up phones in Mozambique quickly and safely worldwide
Save
With our low fees and great exchange rates
Track
Status of each transaction via push notifications, sms or emails
Enjoy
Your first free money transfer to Mozambique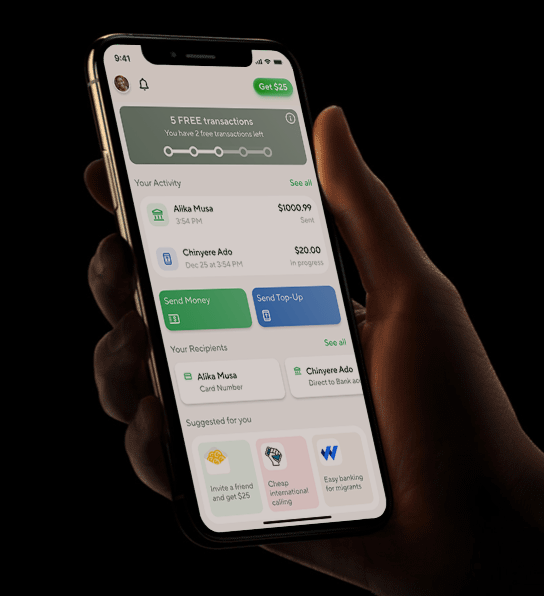 Explore other ways to send money to Mozambique with BOSS Revolution
Prefer to pay in cash? Don't worry, we've got you covered. BOSS Revolution provides you the flexibility you need while sending money. Use our website, download the BOSS Money app or find the nearest authorized BOSS Money Transfer agent location in the US by using our store locator.


What our customers say about us
PalitaMachela
Love this app!! Easy money transfer to our loved ones out the States.

eremiah Parra
Wrote amount, confirmed recipient, authorized payment...done...great app.

Serdio Morfaw
I love this app so much. I can solve my financial problems back home so easily.
Onuapa
I have been using Boss Money for over two years now. It's fast and reliable.

Emmanuel Obiozor
Straightforward and convenient. Was able to make a payment in under 30 minutes my first time using it!
King_chubby
This app really helped me a lot send money to family & friends back HOME 👍👍
Delivery method available for Mozambique
Mobile wallet
Send money safely and instantly to mobile money accounts.
Show Your Gratitude with BOSS Revolution Money Transfer
Frequently Asked Questions
How do I send money to Mozambique from the USA?
BOSS Revolution is a secure and easy way to send money to Mozambique.
To start sending money from the USA, all you need to do is select Mozambique as the country you are sending money to, enter the amount of money you want to send to your beneficiary and select the method of payment such as Mobile Wallet. Next, log in to your BOSS Revolution account, add a recipient and select a payment method. It's that easy!
Money Transfer is available online and via our dedicated app – BOSS Money App –  so you can send money anytime, anywhere online.
How do I start sending money to Mozambique with BOSS Revolution?
Sending money starts with the click of a button. Create your BOSS Revolution web account or download the free BOSS Money App. All you need is your email address and phone number to get started.
Once your account is created you can start sending money. Select Mozambique as the country you are sending money to, enter the amount of money you want to send to your beneficiary and select the method of payment such as Mobile Wallet. This is how your recipient will receive the money. 
Next, enter the details of the person you'd like to receive the money. You may be asked for the recipient's full name, address, phone number and email. Finally, choose how you'd like to pay – credit or debit card – and click send. And that's it! Soon your recipient will receive the funds you sent.
How much does money transfer to Mozambique cost?
Your first transaction with BOSS Revolution is FREE up to $300, meaning you only pay for what you send. After the first transaction, sending money to Mozambique only costs the amount you send plus a fee as low as 3.99 if you pay by debit card or as low as 4.99 if you pay by credit card. These are some of the lowest fees on the market today.
Note: If you use a credit card, the card issuer may charge you an additional fee.
How fast will a recipient get money in Mozambique?
No one likes waiting. That's why at BOSS Revolution, we ensure your money gets to where it needs to be as quickly as possible. So, how long does it take? From the minute you click "send" the money is delivered within minutes or the next day, depending on the method of payment you choose.
- Bank Deposit - generally available within minutes*
- Mobile Wallet - generally available within minutes*
- Cash Pickup - generally available within minutes*
- Home Delivery - funds will be available within 24 hours depending on the time of the transaction. 80% of transfers are paid the same day.
This makes it one of the fastest ways you can get money transferred to Mozambique.
*Access to money transfer services and the transfer of funds may be limited, delayed or unavailable during certain periods and/or based on certain transaction conditions. Additional restrictions may apply. See Terms or Agent for details.
Are the exchange rates guaranteed?
The rate you see is the rate you receive. When sending money with BOSS Revolution, exchange rates are fixed on the date of the transaction. This means your recipient will get the amount you sent.
So how does it work? Simply enter the amount in USD that you want to send, and we'll calculate the amount your recipient will get in the foreign currency automatically. For Mozambique, all payments will be received in MZN.
Note that you may be charged a transaction fee, depending how much you send and the payment method you use. For debit cards, the fees start at 3.99. For credit cards, the fees start at 4.99. BOSS Revolution is not responsible for any fees incurred from your bank or card provider.
Can I trust BOSS Revolution?
Yes! BOSS Money Transfer is a service offered by IDT Payment Services and IDT Payment Services of New York, which are fully-licensed money transfer providers. IDT Payment complies with all federal and state money remittance regulations.
In addition, we offer a 100% money-back guarantee that your transfer will be delivered to its destination. If not, we'll refund you in full.
Your security matters to us. All money transfer transactions sent from our website and apps are conducted according to the highest level of security standards and SSL encryption.
Try other BOSS services available for Mozambique
International Calling
Call worldwide with low rates and stay connected to your family.
Learn more
Mobile Top-Up
Send top ups instantly to over 270 mobile carriers in more than 100 countries.
Learn more